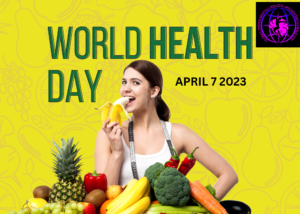 Dear GYMHA members and Supporters,
As we celebrate World Health Day on April 7, 2023, we join hands with the World Health Organization (WHO) in promoting the universal concept of Health for All. This year marks the 75th anniversary of the founding of the WHO and we take this opportunity to reflect on the tremendous progress that has been made in the field of global health since its inception in 1948.
Over the past seven decades, WHO has been at the forefront of some of the most significant achievements in public health. These range from smallpox eradication to the development of vaccines against polio, measles, and rubella to the improvement of maternal and child health and the prevention and control of infectious diseases like Ebola and Zika. WHO has also been instrumental in the fight against non-communicable diseases like cancer, diabetes, and heart disease by promoting healthy lifestyles, tobacco control, and reducing harmful alcohol consumption.
While we celebrate these major milestones, we also recognize the many challenges that still face us as a global community. The COVID-19 pandemic has brought to the forefront the urgent need for collaboration, innovation, and equity in health systems around the world. The pandemic has also underscored the importance of preparedness, surveillance, and resilient health systems to prevent, detect and contain outbreaks.
As members of GYMHA, we have a responsibility to support WHO's mission of "Health for All" by adopting healthy lifestyles, advocating for equitable access to health care, and engaging in activities that promote public health. Let us take this opportunity to reflect on what we can do to contribute towards a healthier and more equitable world. Small changes in our daily lives can have a big impact on the health of our families, communities, and the world.
On this World Health Day, let us reaffirm our commitment to Health for All and celebrate all those who work tirelessly every day to improve global health.
Happy World Health Day to you all!
Best regards,
GYMHA CEO
#HealthForAll   #WHO75