Sign up to become a member of the Global Youth Mental Health Awareness
Prof. Jude Ediae
Founder/CEO
Jude is the Founder and Chief Executive Officer at Global Youth Mental Health Awareness (GYMHA), as well as a Certified Mental Health Practitioner, Award-winning Entrepreneur, Leadership Expert, and International Speaker. Jude has more than 27 years' experience in leadership and over 10 years' in mental health, hosting and participating in global youth mental health events in Australia, Nigeria, Ghana, Uganda and Zimbabwe. He specialises in delivering global mental health events, telephone and online counselling, seminars, and workshops to organisations and communities focused on building compassionate global communities and workplaces, with a particular focus on youth support services. Jude's focus is on understanding the impacts of youth mental health and wellbeing, gender balance, drugs and alcohol issues in their staff, members and communities as well as providing linkages to appropriate support. Some of his past experience includes: Member of the UN Association of Australia, Member of Australian and New Zealand Mental health Association, and World Federation of Mental Health, Alumni of Leadership Victoria, Former Ethnic Communities of Victoria Board of Director and Former Regional adviser for the Victoria Multicultural Commission (VMC).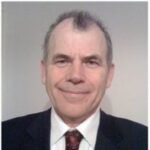 Anthony Neale
Chairperson, Governance
Anthony brings to the Board a passion for wellbeing, integrity and past board roles in various areas. He currently is CEO of Wellbeing Health Retreats since 2012 where he designs Wellbeing programs for organisations and individuals. Anthony has recently partnered with ZinZino. He also works part time for Pentana - a software company servicing the car industry as a developer consultant. Anthony also serves on the Virtues Project International Project for 5 years as the Governance Chair and his previous role was strategic advisor. In the past he has served as a Board member for the Project Mgt Institute Melbourne Chapter as Volunteer Director, and Virtues Companions Inc as secretary for 4 years. Anthony also brings 35 years experience in the corporate sector as a Project Manager and IT consultant.
Carolina Modesto
Deputy Chairperson
Born and raised in Brazil, Carolina witnessed firsthand the effects of multidimensional poverty and inequality in her own suburb. As a result, social injustice has never rested easy with her. Completing a master's degree in Development Studies from the University of Melbourne with an Endeavour Scholarship from the Australian Government opened up new horizons and provided her with analytical skills to be able to understand systemic issues, including poverty, health issues and educational disadvantage. After completing her master's degree, Carolina joined Teach For Australia (TFA), an educational not-for-profit part of a global movement called Teach For All, which is dedicated to addressing educational disadvantage. Carolina is motivated to work with the GYMHA team and support and enhance multi-country partnerships and initiatives in mental health.
Toli Papadopoulos
Public Officer
As a Master of Journalism graduate, Toli is passionate about communications and community development and currently works for Environment Protection Authority as a Corporate Communications Officer. One of his passions is mental health issues. He has devoted extensive time to understanding how to better treat anxiety and depression by reading personal development books such as the Power of Now (which focuses on meditation and the power of mindfulness), Martin Seligman's Flourish (which focuses on the power of optimism) and Dancing with Life (which focuses on finding meaning in suffering).
Tahlya Searle
Secretary
Tahlya was present at the GYMHA launch and instantly felt aligned with the mission to raise awareness for youth mental health on a global scale. She was pleased that GYMHA recognised how mental health affects young people regardless of culture, gender, religion or race. Tahlya has had personal experience with PTSD and believes she could make a valued contribution as a GYMHA board member to continue raising awareness for mental health and reducing the stigma surrounding it. She knows from personal experience that recovery is possible with the right knowledge and support systems in place, and wants to support GYMHA in continuing to provide this to our young global community. Tahlya has a Diploma of Counselling and is currently completing her Bachelor degree. She has been a Youth Mentor for a number of years with the Raise Foundation, is a member of Wellbeing Australia and PACFA (Psychotherapy and Counselling Federation of Australia), and is an Equity Wellness Committee member for MEAA (Media Entertainment & Arts Alliance).
SPECIAL GLOBAL BOARD ADVISORS